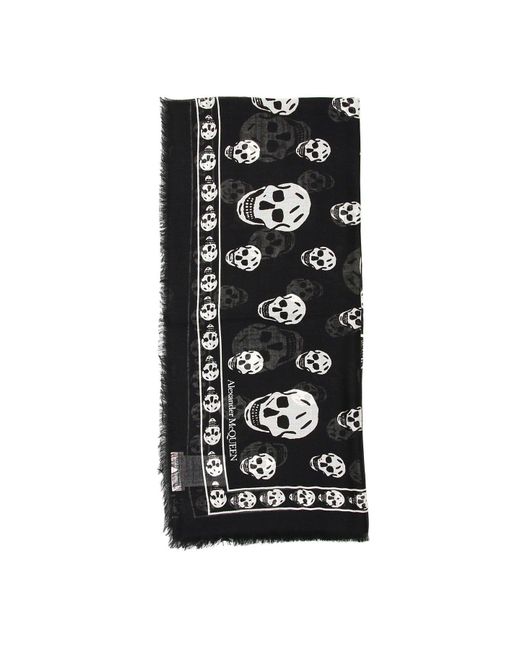 Women's Black Skull Print Scarf
Details
Restlessly inserting light punk rock references to traditional pieces, this black and white silk skull print scarf from Alexander McQueen features a logo tag. Colour: black
From Modes
Skull Scarf
Luxury British fashion house Alexander McQueen is famed across the globe for its exquisitely designed accessories and clothing, each infused with the brand's signature edge. This black and white Skull scarf has been crafted in Italy from fine silk, and features a slim design and a skull print.
From TESSABIT
Skull Print Scarf
Incorporate Alexander McQueen's signature skull motif into everyday looks with this iconic black and white scarf. Featuring frayed edges and a logo print, this coveted skull stamped piece exudes edge and sophistication; trademarks of the Alexander McQueen brand.
From Eleonora Bonucci
Wool Skull Scarf
Fringes on the profiles. Skull pattern on the whole surface. Logo lettering. 90% wool, 4% cashmere, 3% metallic fiber, 3% cupro. Dimensions: 180 cm x 138 cm. Made in italy.
From Carola Zeta
Skull Scarf
Alexander mcqueen thin scarf with skull print all-over and fringed hems. Made in: italy. Material: 85% modal 15% seta. Accessory length: 120 cm. Accessory height: 104 cm.
From SSENSE
Black Silk Classic Skull Scarf
Rectangular silk scarf in black. Signature graphics and logo printed in white at face. Approx. 47 length x 40 width. 100% silk.
From Alexander McQueen
Classic Silk Skull Scarf
Alexander McQueen silk skull scarf with fringed edge; features repeat skull pattern and skull border. Silk.
From Coltorti
Skull Scarf
Alexander McQueen thin scarf with Skull print all-over and fringed hems. Silk.
From MCLabels
Silk Scarf
Scarf alexander mcqueen, silk 100%, color black, measurements 104x120cm, co.
From Cettire
All Over Skull Print Scarf
Dimensions: Width: 104cm, Length: 120cm 85% Modal, 15% Silk. Made in Italy.
From TheCorner.com
Skull Print Scarf
Fringed edges Size: 104x120 cm 15% Silk, 85% Modal.