Keep The Bogan At Bay: How To Dress In Style This Australia Day
Lamingtons, Vegemite, Triple J's Hottest 100 - us Aussies have a lot to be thankful for.
Whatever your opinion is on Australia Day (and we admit, there are many), at the very least it's a day off from work and we really can't complain about that.
But if you're really not into channeling your inner bogan this year, we have your what-to-wear needs covered for every occasion.
Simply take our flowchart quiz and tackle your style dilemmas with our guide on the best ways to spend the day, featuring rooftop pools, beer countdowns, pineapple throwing and more.
So read ahead, look good, have fun and enjoy a snag.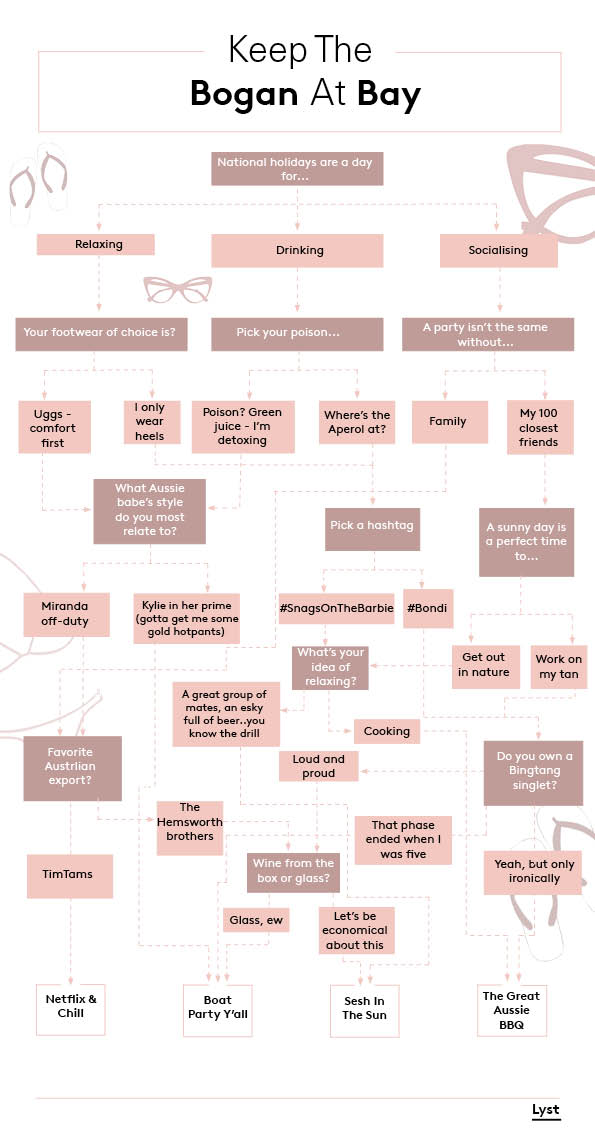 Netflix & Chill
No Judgements here, we're all for staying in pajamas as long as humanly possible (especially if you can get your hands on a silk set from Olivia Von Halle).
Cozy up in one of these slinky styles and if you really need to leave the house, just throw on some embroidered slides and you're good to go.
Where to head: The sofa - need we say more.
Boat Party Y'all
There's nothing quite like drinking on a boat for a fun afternoon in the sun. Choose statement swimwear like a Zimmerman bikini and up the retro vibes with a big hat and a pair of sunglasses.
Where to head: A boat.
Lacking in boat-owning friends? Not to fear, a party by the docks is nearly just as good, check out these picks:
Sydney:
Afternoon Sessions at Darling Harbour
Where: Darling Harbour, Sydney
Expect live music and DJs to get you up and dancing.
Australia Day at Sydney Harbour
Where: Circular Quay, Sydney
Where are most people going to flock to when in Sydney? The Opera House and Sydney Harbour Bridge of course.
The Harbour will be hosting a load of events, bars and parties.
Melbourne:
Docklands
Where: Docklands, Melbourne City
Expect roaming artists, entertainment and Melbourne's most loved food trucks, all culminating in a spectacular firework display at 9.00pm AEST.
Sesh In The Sun
What's a bank holiday if you're not enjoying some ciders in the sun?
Head to your favorite rooftop or outdoor bar in a pair of silk shorts, styling them with a loosely fitted cotton T-shirt and espadrille wedges to strike that elusive balance: casual but I care.
Where to head:
Sydney:
The Rocks Street Party
Where: The Rocks, Sydney
Spend your day relaxing and enjoying all that Australia Day has to offer against the historic backdrop of The Rocks.
Festival Village
Where: Hyde Park North Sydney NSW
Head on down to the epicentre of Sydney Festival for a drink and a feast.
This year also sees the introduction of the Village Sideshow – constructed from over 100 shipping containers and filled with wild, wonderful and bizarre attractions.
Bondi Beach, Manly Beach and Coogee Beach will be packed so make sure you get in early (and pack your sunscreen).
Brisbane:
Australia Day Fireworks at Southbank
Where: River Quay, Southbank, Brisbane
Check out Brisbane's Southbank as a part of the Great Australian Bites festival for a day of market stalls, live music, pop-up bars and a fantastic fireworks display.
Don't forget to pack your bathers for a dip in the Lagoon.
Pineapple Throwing at The Pineapple Hotel
Where: The Pineapple Hotel, Kangaroo Point
Of course, when it comes to throwing pineapples, there's only one iconic, 130-year-old venue for it. Head to one of Woolloongabba's finest to enjoy all the Australia Day merriment (including pub food, brews and the Hottest 100) and try your luck in the 10th annual competition. What's not to love?
St Kilda Beach will be the place to be this Australia Day. Or if you fancy something a bit more green, check out St Kilda Botanic Gardens, Edinburgh Gardens (in Fitzroy), Carlton Gardens or the Royal Botanic Gardens.
Melborne:
Australia Day Rooftop Beach Party
Where:Geddes Rooftop, Geddes Lane, Melbourne
Expect good tunes, good vibes and inflatables.
The Great Aussie BBQ
Let's face it, what you're looking for here is an outfit that will look good and still be comfortable enough to eat about seven hotdogs in. Keep your style simple with a pair of easy denim cut-offs, a printed T-shirt and simply swap out thongs for wedges if you really want to dial this look up a notch.
Where to head:
Sydney:
Bradfield Park
Head on down to Bradfield park for live music and a sausage sizzle.
Brisbane:
If you can, take some meat and fire up one of the public BBQs by St Kilda or Elwood Beach.
Gold Coast:
The city of Gold Coast has some 380 public barbecues located in the parks and reserves. Grab your friends and family, some delicious food and head out for a day in the great outdoors.
Melborne:
Australia Day Weekend BBQ
Where: Along the riverside at Meat Market
Check out the unbeatable riverside views and enjoy a barbecued feast at South Wharf's Meat Market.