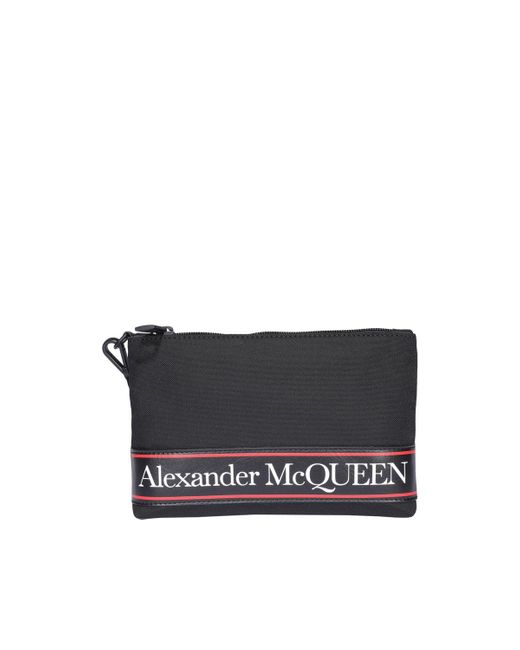 Men's Black Flat Lettering Logo Printed Clutch
Details
We enjoy when people show off their favourites, so we believe this is the one for you. Made from black, white and red leather, this flat lettering logo printed clutch from Alexander McQueen will look great once placed on top of a coffee table so you can take your Instagram selfie alongside your latte macchiato. Go on, you know you want it. Featuring a top zip closure, black-tone hardware and a debossed internal logo stamp. This item may not be on sale in France, UK, Italy, Belgium and Switzerland. Colour: black
From Lane Crawford
Selvedge' Logo Print Leather Pouch
Accentuating the minimalistic leather pouch with its signature logo print, Alexander McQueen presents this Selvedge iteration to suit your everyday needs. Lightweight with a thin compartment, this piece elevates your look with a touch of effortlessness. Black leather. Made in Italy. 100% Leather. Model is 6'2"/188cm tall. Product measures: Length 12.2" (31cm) / Width 0.4" (1cm) / Height 8.3" (21cm).
From VITKAC
Clutch With Logo
Black clutch from Alexander McQueen. Made of leather. Zip fastening. White and red logo print on the front. Black lining. One compartment, a slip pocket and 6 card slots inside.
From TheCorner.com
Logo Print Flat Leather Pouch
Zip closure Internal flat pocket Six card slots Black hardware Techno satin lining Width: 31 cm Height: 21 cm 100% Calf.
From Cettire
Logo Clutch Bag
Dimensions: Width: 21cm, Height: 13cm, Depth: 2cm, Handle: 19.5cm 100% Polyamide, 100% Leather. Made in Italy.
From MCLabels
Leather Pouch
Pouch alexander mcqueen, leather 100%, color black, measurements 31x21cm, ss21.
From iKRIX
Logo Print Clutch
Leather clutch featuring logo print stripe and zip fastening.
From Julian Fashion
Logo Clutch
Black. Leather.