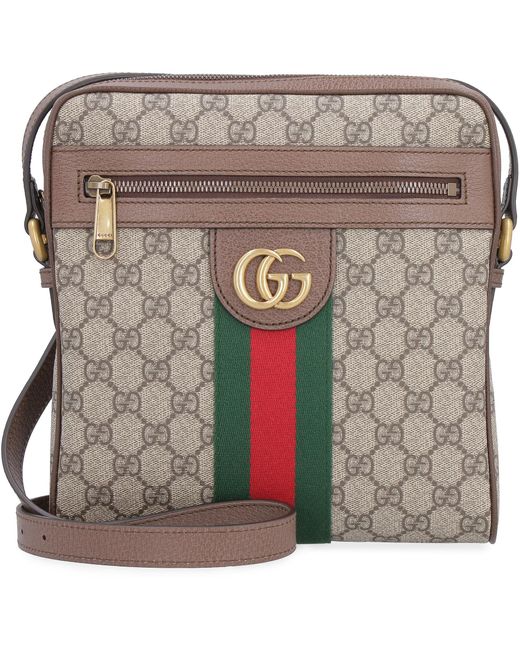 Men's Natural Ophidia Small Messenger Bag
Details
Drawing inspiration from postmen and bicycle couriers may not be what you'd expect from Gucci, but that's the case with the Ophidia messenger bag. The 80s shape is given a high end re work thanks to the iconic Supreme print and the web stripe that wraps around the canvas body, but still maintains its intended practicality with a spacious interior and separate zip pocket at the front. Height 18cm, width 14.5cm, depth 6cm, strap drop 55cm)Gucci messenger bag. Zip closure. Supreme print, web stripe, gold tone logo, adjustable cross body strap, one external zipped pocket, one interior slot pocket, one interior zip pocket. Canvas. Use specialist cleaner. Made in Italy. Height 18cm, width 14.5cm, depth 6cm, strap drop 55cm. Colour: natural
From Gucci
Ophidia GG Shoulder Bag
The shoulder bag has a small elongated shape with a zipper closure and front pocket. A classic combination of the house's most recognisable elements—the gg motif and web stripe—the world of ophidia continues to evolve, incorporating new shapes and silhouettes. Crafted in gg supreme canvas, the collection is defined by the double g hardware. Beige/ebony gg supreme canvas, a material with low environmental impact. Green and red web. Antique gold-toned hardware. Double g. Front zipper pocket. Adjustable leather strap with 55cm drop. Zipper closure. W14.5cm x h18cm x d6cm. Cotton linen lining. Made in italy. The male model is 182cm tall and the female model is 173cm.
From MR PORTER
Ophidia Leather-trimmed Monogrammed Coated-canvas Messenger Bag
A nod to '80s urban streetwear, gucci 's 'ophidia' bag is inspired by mail carriers, postmen and bicycle couriers. It has plenty of archival signatures like the 'gg' plaque and monogrammed coated-canvas fabrication, as well as the recognisable striped webbing. It's trimmed with textured-leather for durability and has an external zipped pocket for easy access to your phone. Shown here with gucci shirt, gucci trousers, gucci coat, gucci shoes. Tonal-brown coated-canvas. Adjustable shoulder strap. Leather and webbing trims, front zipped pocket. Two internal card slots, zipped pocket. Fully lined. Zip fastening. Comes with dust bag. Made in italy.
From Leam
GG Ophidia Bag Small
In a mix of distinctive codes of the Maison, such as the GG motif and the Web ribbon, the Ophidia line is enriched with new shapes. A versatile model originally inspired by couriers, postmen and bellboys, in the 80s the shoulder bag became a cult accessory of the streetwear scene. Here proposed in GG Supreme fabric, the bag is profiled from contrasting brown leather and defined by the emblematic Double G from the archives. Antique gold-colored finishes, front pocket with zip. Internal zip and open pockets. Cotton and linen lining. Dimensions: w 23 x h 24 x d 5.6 cm, shoulder strap 55 cm.
From LN-CC
Small Ophidia Messenger Bag
Gucci's signature tropes – playful detailing and bold motifs– are evident in this season's accessories. The Small Ophidia Messenger Bag is crafted from canvas in a GG supreme print pattern, featuring a central signature striped web panel and a GG logo plaque. Canvas in a GG supreme print pattern. Square silhouette. Antique gold-tone hardware. Top zip fastening. One main compartment. Adjustable leather shoulder strap. Cotton linen lining in beige. Made in Italy. Material. 100% Cotton canvas. 100% Cotton lining. 100% Cotton canvas. 100% Cotton lining.
From THAHAB
Ophidia GG Supreme Canvas Bag
Made in Italy, this Gucci shoulder bag is crafted from canvas and leather in beige with an adjustable strap. Details. Men's Shoulder Bag. Canvas. GG Supreme print. Green and red web detail. Top zip closure. One main compartment. Stitched label with brand logo. Front zip pocket. Adjustable belt strap. Comes in a dust bag and box. Made in Italy. Material & Care. Outer: 80% Polyester, 20% Leather. Clean with a soft, dry cloth.
From SSENSE
Beige GG Supreme Web Messenger Bag
Coated canvas messenger bag in beige featuring logo pattern in brown throughout. Grained leather trim in brown throughout. Adjustable shoulder strap with pin-buckle fastening. Patch pocket, enamelled logo plaque, and signature striped web in red and green at face. Zip closure at main compartment. Leather logo appliqué at interior. Cotton canvas lining in off-white. Antiqued gold-tone hardware. Approx. Leather, textile.
From TheCorner.com
GG Supreme Fabric Ophidia Shoulder-bag
Contrasting leather trim Green-red-green Gucci-Web detail Front zippered pocket Top zippered closure Inner zippered pocket and open small pocket Adjustable leather shoulder strap Antique gold-tone metal hardware Interior canvas lining Width: 23 cm Height: 24 cm Depth: 5,5 cm Strap: 110 cm 20% Polyester, 20% Cotton, 60% Polyurethane, 100% Calf.
From TheDoubleF
Medium Ophidia GG Supreme Bag
Messenger bag by Gucci in beige/ebony GG Supreme canvas, a material with low environmental impact, with brown leather trim, green and red Web, antique gold-toned hardware, double G, front zipper pocket, adjustable leather shoulder strap, zipper closure and inner with zipper and open pockets. Fall/Winter 2020-21 collection.
From Harvey Nichols
Ophidia GG Small Cross-body Bag
Gucci taupe coated canvas cross-body bag Adjustable shoulder strap, monogrammed, designer plaque, signature striped webbing insert, zipped front pocket, brown leather trims, gold-tone hardware, internal zipped pocket, patch pocket, fully lined Zip fastening around top Comes with a dust bag.
From LUISA VIA ROMA
Coated Gg Supreme Ophidia Flight Bag
Height: 18cm Width: 14.5cm Depth: 6cm. Adjustable leather shoulder strap. Top zip closure. Leather trim. Metal hardware logo detail. Striped grosgrain webbing detail. All over logo pattern placement may vary. One front zip pocket. Canvas lining.
From biffi.com
Ophidia GG Shoulder Bag
Beige and ebony GG Supreme fabric bag. Green and red web tape. Antique gold colored finishes. Double G. Front zippered pocketAdjustable leather shoulder strap. Zip closure14.5 cm x 18 cm x 6 cm.
From Cettire
Ophidia GG Small Messenger Bag
Dimensions: Width: 23cm, Height: 24cm, Depth: 5.5cm, Strap: 55cm 100% Canvas, 100% Cotton, 100% Linen, 100% Calf Leather. Made in Italy.
From Mytheresa
Ophidia GG Supreme Crossbody Bag
Tap gucci's iconic gg supreme canvas this with beige crossbody bag. 60% polyurethane 20% cotton 20% polyester, trim:calf leather.
From MCLabels
Beige Polyurethane Messenger Bag
Messenger bag gucci, polyurethane 100%, color beige, measurements 14.5x18x6cm, shoulder strap 55cm, ss20.
From GIGLIO.COM
Shoulder Bag Bags Men
men's shoulder bag bags men collection. Compositions: polyurethane, 100%. Size in cm: 23x25x5.
From Gaudenzi Boutique
Ophidia luggage Messenger Bag Small In Tessuto GG Supreme E Pelle 23 X 24 X 6 Cm
Made in: Italy. Composition: 60%Polyurethane 20%Cotton.
From Nugnes 1920
Shoulder Bag
GG Supreme shoulder bag.