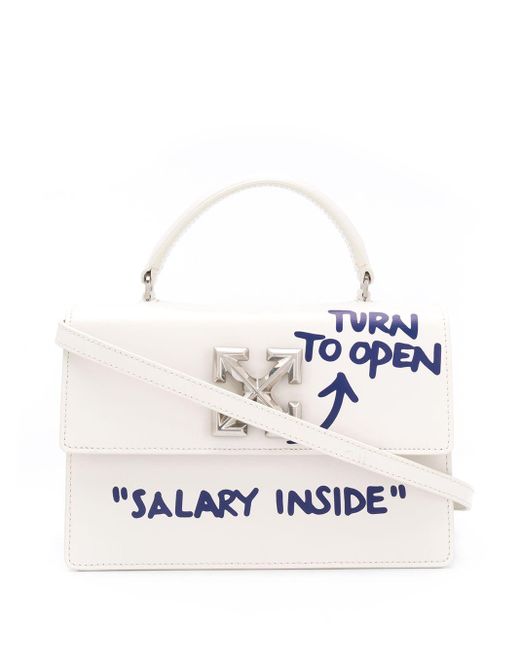 Women's White 1.4 Jitney Bag
Details
Removable finish
Printed pattern
Contemporary style
White 1.4 Jitney bag from Off-White with "SALARY INSIDE" text print at front and "POCKET" at back, white top handle, foldover flap with press-release fastening, removable shoulder strap, internal pocket and back pocket. For a complete contemporary luxury outfit, discover the collection online and our Off-White shop-in-shop in our boutique at Via del Babuino, 81. Colour: white
From XHIBITION
Women's Quote Jitney 1.4
The off-white women's quote jitney 1.4 is the latest seasonal variation on the brand's classic flap bag. Off-white hardware and an adjustable shoulder strap complete the look. Flap front with internal pockets. Top carry handle. Detachable adjustable strap with metal hardware. Printed graphics. 57 cm shoulder strap. 20 x 15 x 8 cm. Made in italy.
From The Clutcher
Jitney 1.4 Shoulder Bag
Leather handbag Color: white Salary Inside blue on the front Red interior Internal card slot Internal patch pocket Patch pocket on the back Arrow closure on the flap 100% calfskin Details: 100% metal Made in Italy W 22 x H 15 x D 8 cm.
From Eraldo
Jitney 1.4 Quote Tote
White/violet leather Jitney 1.4 quote tote from OFF-WHITE featuring single rounded top handle, foldover top, internal slip pocket, signature Arrows motif, slip pocket to the rear and signature quote motif. Leather.
From Dell'Oglio
Jitney 1.4 Leather Bag
Width: 22cm Height: 14cm Depth: 7cm. Flap and pivot closure. Adjustable strap. Top handle. One back patch pocket. Printed details. 100% Leather. Made in Italy.
From Cettire
1.4 Jitney Quote Shoulder Bag
Dimensions: Width: 22cm, Height: 14cm, Depth: 10cm, Strap: 55cm, Handle: 8.5cm 100% Calf Leather, 100% Metal. Made in Italy.
From D'aniello Boutique
1.4 Jitney Quote Leather Bag
Off-White's 1.4 Jitney Quote white leather bag featuring texts print and logo-plaque.
From GENTE Roma
1.4 Jitney Bag
Leather 100%.