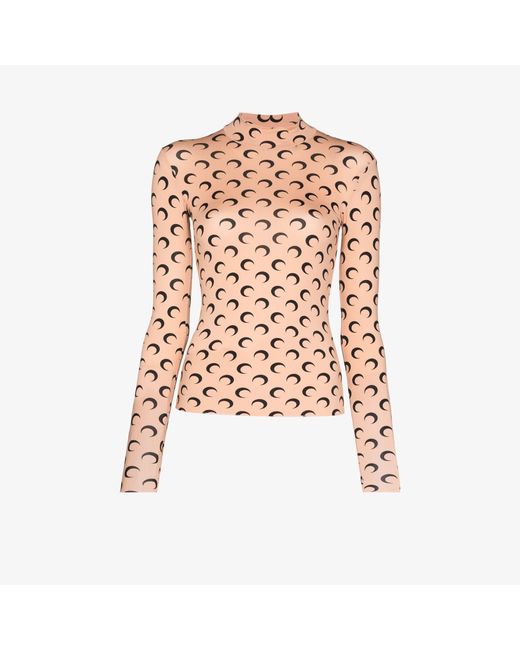 Women's Moon-print Turtleneck Top
Details
Beige/black stretch-recycled polyamide moon-print turtleneck top from MARINE SERRE featuring graphic pattern print, fitted, high neck and long sleeves. POSITIVELY CONSCIOUS: This product is made with recycled material, so you can be confident you are choosing positively. Material:Spandex/Elastane/Recycled Polyamide. Colour: multicolour
From Eraldo
Round Neck Moon Print Blouse
Pink/black round neck moon print blouse from MARINE SERRE featuring round neck, long sleeves, straight hem and moon print. POSITIVELY CONSCIOUS: At least 50% of the main material of this product meets our conscious criteria: for example, it's either organic, recycled, upcycled, or independently recognised as being better for the environment (such as linen, ramie, , etc..
From MATCHESFASHION
Crescent-moon Print Stretch-jersey Top
Marine Serre - LVMH Prize-winning designer Marine Serre's signature crescent moons are scattered across this tan top for a graphic look. It's crafted from stretch jersey containing solely recycled fibres to a skin-skimming silhouette with long sleeves. The slim shape makes it ideal for layering under dresses for a directional look.
From FARFETCH
Moon-print Turtleneck T-shirt
Nude beige moon-print turtleneck T-shirt from MARINE SERRE featuring stretch-fit, round neck, long sleeves and straight hem. POSITIVELY CONSCIOUS: This product is made with a certified eco-material or a recycled material that is better for the planet, so you can be confident you are choosing positively.
From Modes
Moon-print Turtleneck Top
Beige/black moon-print turtleneck top from MARINE SERRE featuring graphic pattern print, fitted, high neck and long sleeves.
From TESSABIT
Logo Turtleneck Sweater
Black open-back T-shirt from MARINE SERRE featuring ribbed detailing, open back, round neck, long sleeves and straight hem.