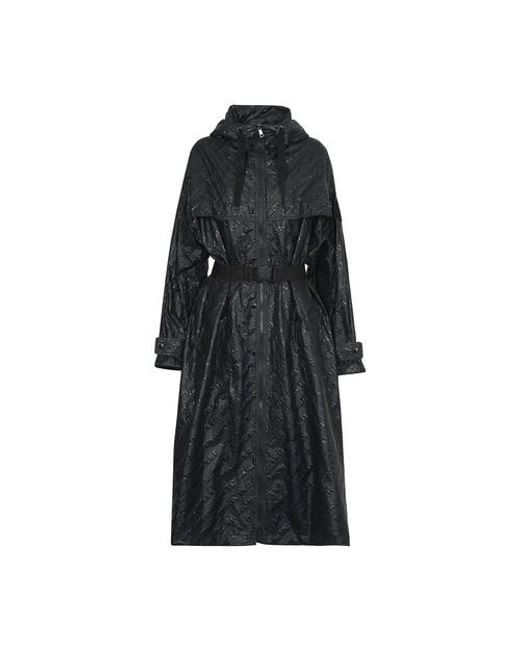 Women's Black Bouteille Embossed Nylon Trench Coat
Details
Synthetic material
Oversized fit
Embossed and belted finish
Sporty and casual style
Belted waist
Black trench coat. Belted waist. Front zip fastening. Drawstring hood. Buttoned cuffs. Embossed logo pattern. Extra long length. Loose fit. Tab cuffs. Double bound pockets. Die-cast zip. Synonymous with high-performance outerwear, Moncler updates its collection to include the sophisticated, extra long Bouteille trench coat. Taking technical prowess as seriously as cutting-edge design, Moncler has constructed this long parka jacket from hard-wearing technical nylon and fitted with a weather-resistant die-cast zip and concealed snap closures. An attached hood and snap belt give the oversized silhouette structure, while brand embossed logo detail and black grosgrain accents lend a contemporary edge. Let this long coat take you from city streets to outskirt adventures in style. 100% Polyamide. Machine washable. Italian lifestyle brand Moncler takes its name from Monestier-de-Clermont, a village in the French mountains. Founded in 1952 by René Ramillon, Moncler initially produced sleeping bags and tents to suit those working in the harshest climates. Soon adopted by mountaineers, the brand transferred its innovations to apparel; sponsoring expeditions and ski teams. Today, the brand is known for its range of sleek and sporty outerwear and accessories. Adapting to meet the demands of city life, Moncler's state-of-the-art fabrics and signature goose down-filling create superior warmth-to-weight ratios across luxurious collections of casual-wear and accessories. Colour: black
From Moncler
Bouteille
An allover embossed logo is showcased in the Bouteille, a long parka for women created exclusively for moncler. Com and select boutiques, that will carve out a space in the most crowded closets. Thanks to the Moncler lettering and the extra long length, this parka is rich in elegant details that will be impossible to forget.
From 24S
Bouteille Logo Long Parka
The fashionably textured Bouteille logo parka is very comfortable. This is a signature piece from Moncler. It is long with a belt for adjusting the waist. It has a zip fastening and long sleeves bearing the brand's logo. This long parka will add style to your look. 100% polyamide.
From LUISA VIA ROMA
Bouteille Nylon Trench Coat
Non-detachable hood with drawstring. Front zip closure. Button cuffs. Back storm flap. Includes matching buckle belt. All over embossed logo. Two side slits. Two side pockets. Unlined. Model is wearing a size0.
From FARFETCH
Bouteille Embossed Logo Trench
Black Bouteille embossed logo trench from Moncler featuring belted waist, front zip fastening, drawstring hood, buttoned cuffs and embossed logo pattern.
From Dell'Oglio
Bouteille Nylon Jacket
Hood. Long sleeves. Front zip closure. Belted waist. All over print. Model wears size 1. 100% Synthetic fibre.
From Browns Fashion
Black Bouteille Giubbotto Belted Coat
999 BLACK Synthetic->Polyamide Bouteille Giubbotto belted coat from Moncler. Polyamide.
From Cettire
Bouteille Raincoat
100% Polyamide. Made in Italy.