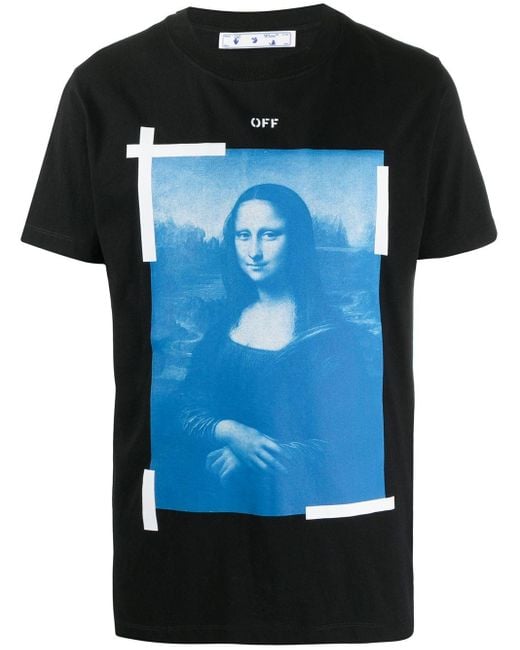 Men's Black Mona Lisa T-shirt
Details
Cotton material
Regular fit
Graphic pattern
Premium style
Off-White present the blue toned Mona Lisa graphic on this mid weight premium cotton t-shirt. Featuring the enlarged Arrows to the rear and white tape effect frame around the front graphic. Finished with the "OFF" logo to the front chest. Relaxed regular fit. Take your regular size. Free UK Delivery. Colour: black
From Maison De Fashion
Off-white Blue Mona Lisa Print T-shirt Black
Off-white. Mona lisa crew neck t-shirt. Essentials. A strong coffee in the morning for some, peppermint chewing gum for others. For us, this monalisa t-shirt sums up that list - is allows us to show our artsy side. Don't spill your coffee, though, it's from off-white. Highlights. Blue. Cotton. Logo print at the chest. Graphic print to the front. Signature arrows motif. Crew neck. Short sleeves. Straight hem. Cotton 100%. Wearing. Model is 1.86 m wearing size m.
From Eraldo
Mona Lisa Print T-shirt
Black cotton Mona Lisa print T-shirt from OFF-WHITE featuring signature Arrows motif, graphic print, logo print at the chest, round neck, short sleeves and straight hem. Cotton.
From Dante 5
'monalisa' T-shirt
Black cotton short sleeves t-shirt with front all-over print and back logo print. Made in portugal. 100% cotton.
From TESSABIT
Monalisa Cotton T-shirt
BLACK WHITE Natural (Veg)->Cotton BLUE MONALISA S/S SLIM TEE BLACK WHITE from Off-White.
From Dell'Oglio
Printed Cotton T-shirt
Roundneck. Short sleeves. Printed front and back panel. Model wears size M. 100% Cotton.
From MCLabels
Cotton T-shirt
T-shirt off-white, cotton 100%, color black, co21.
From Cettire
Monalisa Print T-shirt
100% Cotton. Made in Portugal.