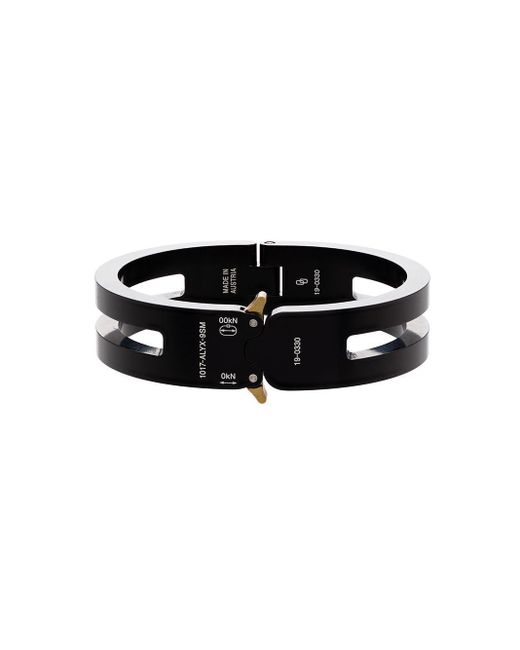 Men's Black Buckle Bracelet
Details
Add a futuristic vibe to your everyday look with this sleek black bracelet from 1017 ALYX 9SM. Crafted in Austria from a hard-wearing aluminum, it's secured with an instantly recognisable buckle clasp, giving a nod to Matthew Williams' industrial urban aesthetic. 100% Aluminium. Buckle Clasp. Made in Austria. Colour: black
From FARFETCH
Buckle Bracelet
1017 ALYX 9SM's bracelet is perfect for those who want to wear a bracelet without it really looking like jewellery. This one's not for the traditional types. Featuring a buckle fastening. This item may not be on sale in France, UK, Italy, Belgium and Switzerland.
From MR PORTER
Blackened Metal Bracelet
1017 alyx 9sm's bracelet unlocks with the brand's 'rollercoaster' buckle, inspired by the safety straps at california's six flags magic mountain. It's streamlined with a tonal blackened metal cuff.
From SSENSE
Black Hinged Buckle Bracelet
Hinged bracelet in black aluminium. Logo and text engraved in silver-tone at face. Cut-out at length. Signature press-release fastening. Approx. Aluminium.
From Browns Fashion
Black Rollercoaster Buckle Bracelet
BLK0001 BLACK Metals & Alloys->Brass black rollercoaster buckle bracelet from 1017 ALYX 9SM. Brass.
From Cettire
Buckle Bracelet
Dimensions: Width: 1.7cm Brass. Made in Austria.
From GENTE Roma
Rollercoaster Track Bracelet
Brass 100%.