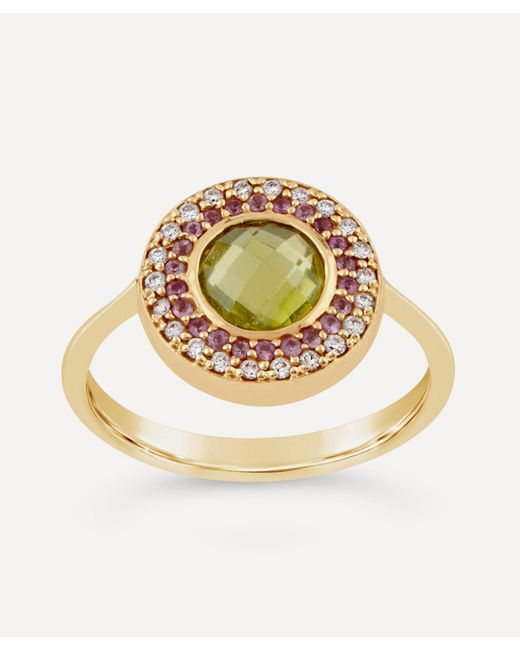 All shipping & returns info
Free shipping with Liberty London on orders over £40.
Product details
14K yellow goldavailable in size I6.2mm green Peridot 1mm pink sapphires and brilliant cut white diamondsTotal weight central stone 0.67ct Peridot 0.11ct intense pink sapphires and 0.11ct white diamondsDiameter of ring is 12mm roundAll our gemstones are individually hand-cut so there may be slight variations in carat weight between pieces Presented in a designer-stamped boxDust with a soft cloth, clean gently with warm soapy water Our jewellery has been certified in accordance with the Hallmarking Act 1973. Colour: metallic
From Liberty London
14ct Gold Double Halo Multi-stone Pinky Ring
Crafted from solid 14 carat gold, this dazzling Double Halo multi-stone pinky ring is from Dinny Hall's fine jewellery collection. Exemplifying the designer's passion for coloured gems, this pinky ring features a round, 0.67-carat checkerboard cut green peridot, encased in a double halo of intense pink sapphires and brilliant cut white diamonds. The perfect starting point to a show-stopping curation of stacked rings and glittering gems, this piece will bring an impressive burst of colour to any special occasion look.