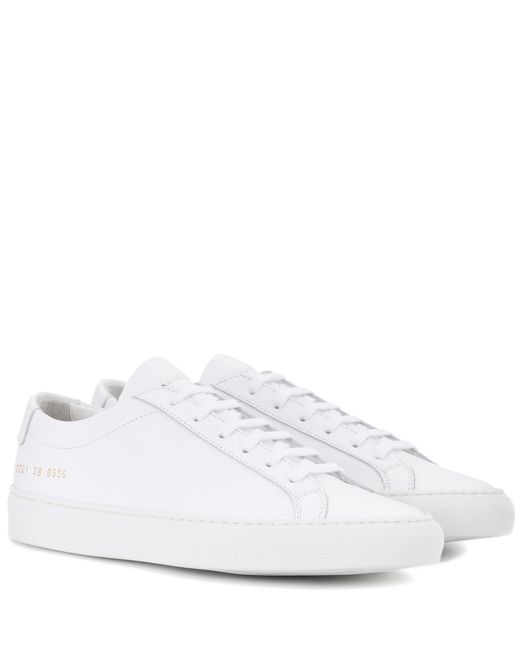 Details
Leather material
Embossed finish
Ready to accept the ultimate challenge of the grown-up? Good - because these achilles trainers from common projects will be right by your side as you fight the good fight in keeping them pearly white and clean as can be. But it's okay if not - we like beige too. Featuring a round toe, a lace-up front fastening, a flat rubber sole and gold-tone embossed detailing at the sidewall. Material: 100% calf leather uppers calf leather lining 100% rubber sole. Made in: italy. Colour: white
From FARFETCH
Achilles Lace-up Sneakers
Ready to accept the ultimate challenge of the Grown-Up? Good - because these Achilles sneakers from Common Projects will be right by your side as you fight the good fight in keeping them pearly white and clean as can be. But it's okay if not - we like beige too. Featuring a round toe, a lace-up front fastening, a flat rubber sole and gold-tone embossed detailing at the sidewall.
From Carola Zeta
Original Achilles Leather Sneakers
Common projects leather original achilles sneakers with leather lining and rubber sole. They feature the gold-printed item number on the side. Extra laces included. Made in: italy. Material: 100% vitello. Heel height: 2,5 cm.
From Mytheresa
Original Achilles Leather Sneakers
With designs like the original achilles sneakers, common projects has built a cult-like following on the simplest of premises: quality materials and a minimalist aesthetic. Upper:calf leather, sole:rubber.
From VITKAC
'bball' Sneakers
White 'Bball' lace-up sneakers from Common Projects. Made of leather. Decorated with a printed pattern in gold-tone. Perforated details on the front. White rubber sole.
From Cettire
Original Achilles Sneakers
Dimensions: Heel: 2.5cm, Sole: 2cm 100% Calf Leather, 100% Rubber. Made in Italy.