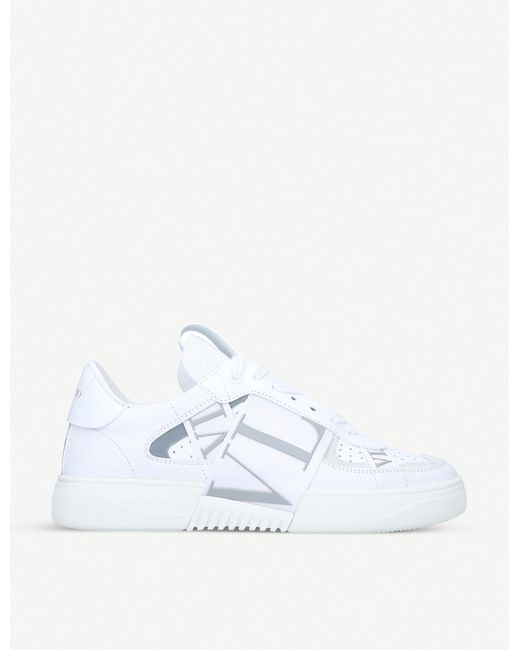 Women's Grey Valentino Garavani Vl7n Logo-embellished Leather Trainers
Details
Is one strap branded with the iconic VLTN logo enough for one trainer? Is the question. Certainly not! Is the answer. Valentino's Pierpaolo Piccioli adds a second smaller branded strap beside the original one, then another one, this time at the front. And then, for good measure, one more to the heel. The result can be summed up like this: Valentino leather trainers. Lace up fastening. Round toe. Branded straps throughout. Perforation over toe. Contrast panel at heel. Made in Italy. Fabric: Upper: 100% leather. Sole: 100% rubber". Colour: grey
From Selfridges
Valentino Garavani Vl7n Logo-embellished Leather Trainers
Is one strap branded with the iconic VLTN logo enough for one trainer? Is the question. Certainly not! Is the answer. Valentino's Pierpaolo Piccioli adds a second smaller branded strap beside the original one, then another one, this time at the front. And then, for good measure, one more to the heel. The result can be summed up like this: Valentino leather trainers. Lace up fastening. Round toe. Branded straps throughout. Perforation over toe. Contrast panel at heel. Made in Italy. Fabric:Upper: 100% leather. Sole: 100% rubber.
From Harrods
Valentino Garavani Garavani Leather Vl7n Sneakers
For Spring/Summer 2020, Valentino presented its graphic take on the dad-style trend with the VL7N sneakers. The Italian-made leather design is punctuated with seven rubberised-logo bands, as their name suggests, emphasising the layered design with different tones. Leather/Rubber.
From Valentino
Valentino Garavani Vl7n Sneaker In Banded Calfskin Leather
Valentino Garavani VL7N Sneaker in banded calfskin leather. Seven bands with rubberized VLTN logo. Heat-embossed Valentino Garavani logo on back and tongue. Rubber sole. Made in Italy. 55% Polyurethane 45% Cotton.
From 24S
Valentino Garavani Garavani - Vltn Trainers
These Valentino Garavani women's trainers are crafted in leather and feature a contrasting band with the brand's signature. Their urban appeal will invigorate your sportswear look. 100% calfskin.