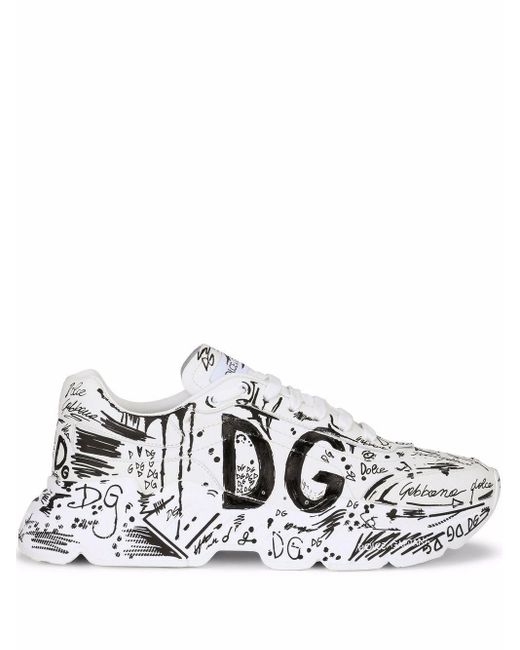 Men's White Daymaster Trainers
Details
The daymaster line is inspired by writing art, celebrating the world of graffiti and joie de vivre. White leather trainers with white flat laces and thick white rubber sole. Presents designs made by hand with colours designed to adhere to the leather. The designs are different on both shoes. The possible variation of the garment received from the one shown in the photo is an added value, which denotes the uniqueness of the garment. Material: 100% leather. Made in: italy. Colour: white
From Dolce & Gabbana
Hand-painted Graffiti Calfskin Nappa Daymaster Sneakers
The iconic elements and signature details of the fashion house have been reworked with a contemporary edge. Urban and bold, these Daymaster sneakers come in calfskin nappa with completely hand-painted graffiti detailing: Calfskin nappa upper. Flat laces. Calfskin footbed with branded label. Branded super-flex bottom assembly. Item comes with themed packaging. Made in Italy. External composition: 100% Calfskin. Internal composition: 90% Lambskin 10% Goatskin.
From Leam
Daymaster Sneakers
The Daymaster line is inspired by Writing Art, celebrating the world of graffiti and joie de vivre. White leather sneakers with white flat laces and thick white rubber sole. Presents designs made by hand with colors designed to adhere to the leather. The designs are different on both shoes. The possible variation of the garment received from the one shown in the photo is an added value, which denotes the uniqueness of the garment.
From VITKAC
'daymaster' Sneakers
White and black 'Daymaster' sneakers from Dolce & Gabbana. Crafted from calf leather, this lace-up model sits on a white rubber sole and showcases a graphic print accompanied by the brand's logo. Swappable shoelaces included.
From FARFETCH
Hand-painted Graffiti Daymaster Sneakers
White calf leather/lambskin-blend hand-painted graffiti Daymaster sneakers from DOLCE & GABBANA featuring all-over logo print, round toe, front lace-up fastening, logo patch at the tongue, branded insole and rubber sole.
From Dante 5
'daymaster' Sneakers
White leather sneakers with an all-over contrasting graffiti print. Lace-up closure with an oversize rubber sole. Made in italy. 100% leather.
From Suit Negozi
Daymaster Sneakers
All-over logo print, round toe, front lace-up closure, logo appliqué on the tongue, logo insole and rubber sole. White color.
From Atterley
Leather Sneakers
Lace-up, all-over logo print, stitched profiles, rubber sole, leather.
From Nugnes 1920
Daymaster
Leather sneakers.