SEEK: Anissa Kermiche
As Told to Editorial Director, Katherine Ormerod
Anissa Kermiche is an Algerian-Parisian London-based jewelry designer with a throughly multi-disciplinary approach to her craft. A favorite of style bloggers and editors alike, Kermiche's designs are fast becoming a must-have for any discerning jewlery box. From her relentless pursuit of the perfect pieces to furnish her home, to the confidence with which she curates her eclectic personal style, here she explains why she is a seeker in the truest sense of the word.
Seeker Beginnings
I moved to London four years ago mostly because I was looking for new roads to walk and a level of cultural richness that was lacking from my day to day. I'd been working as an engineer for a big consulting company in Paris. It was extremely boring and straight—ultimately the inertia of working in a role like that made me want to escape. I was brought up in an incredibly strict environment and had never really questioned that I'd be working in a traditional industry, but one day I just couldn't do it any more.
"Finding those perfect things—it's a daily job and it's always in the back of my mind. I'm always on the look out."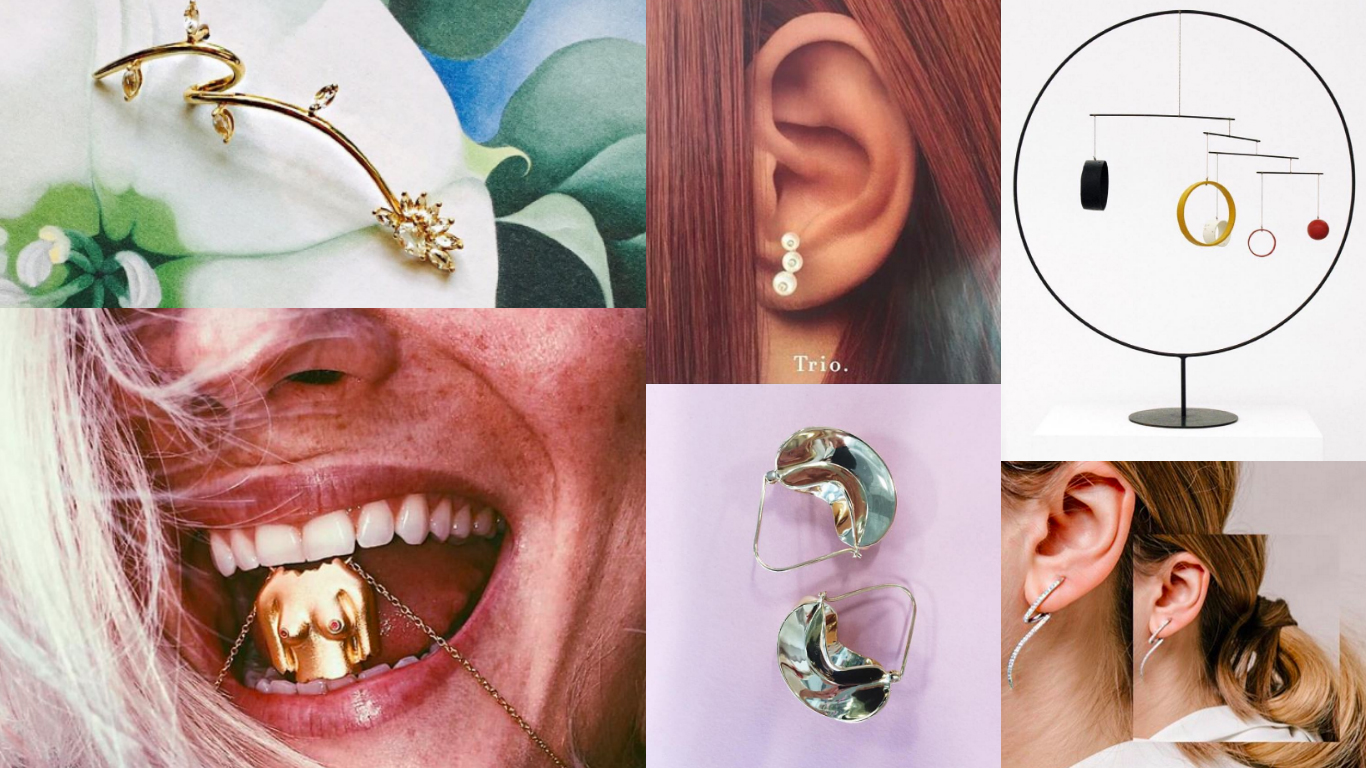 A New Way Of Life
I got a place on a jewelry course—first a short course at [legendary fashion college] Central St Martins, then on to a Computer Aided Design program at Holts Academy in Hatton Gardens. I jumped into my new life, but I was adamant that I wouldn't follow the traditional French-girl-in-London route and moved to the East End instead of South Kensington like everyone else I knew.
"I didn't want to know what was going to happen every single day ever again."
I spent those first months exploring Indian restaurants in Bethnal Green, wandering London's neighborhoods on hunts for unusual experiences—whether it was to find arepas corn cakes from Columbia, or a new vintage shop. My weekends would be spent at markets, talking to sellers from all over Europe and learning all about different crafts and artisan industries. I'd get my hair done in a Jamaican salon in Brixton—the whole thing was like a show, and about as far away as you could get from a prim Parisian hairdressers. During those months exploring the city on my own, the motivation was always to live life differently. I didn't want to know what was going to happen every single day ever again.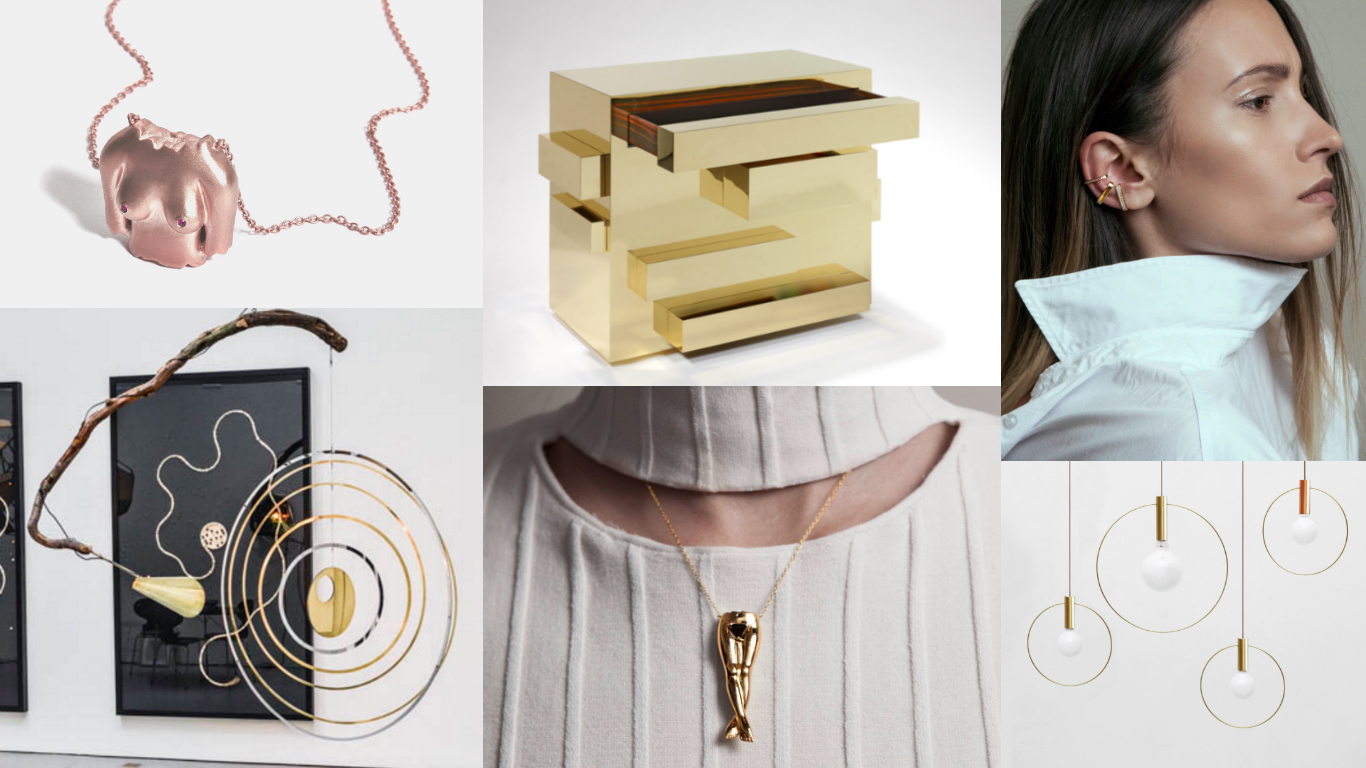 Jewels and Rewards
I launched my first collection earlier this year and the response has been overwhelming. The line is now stocked in some of the world's most exclusive boutiques (including MATCHESFASHION.COM and Kabiri) and through Instagram I can see how women around the world are wearing my pieces. I don't believe all of this would have happened if I'd stayed in Paris—my eye and ambitions have been trained in such a different way through my time in London.
When I first arrived here, my sketchbooks were inspired by India and my pieces were chunkier and far more 'statement'. But my taste has been so refined by my experience both in London and subsequently through the people I met here. For example, I made friends with a group of Danes living in London and ended up spending a lot of time in Denmark, which also brought a new minimalist aesthetic to my work. Ultimately the collection is a fusion of of input from so many cultural sources.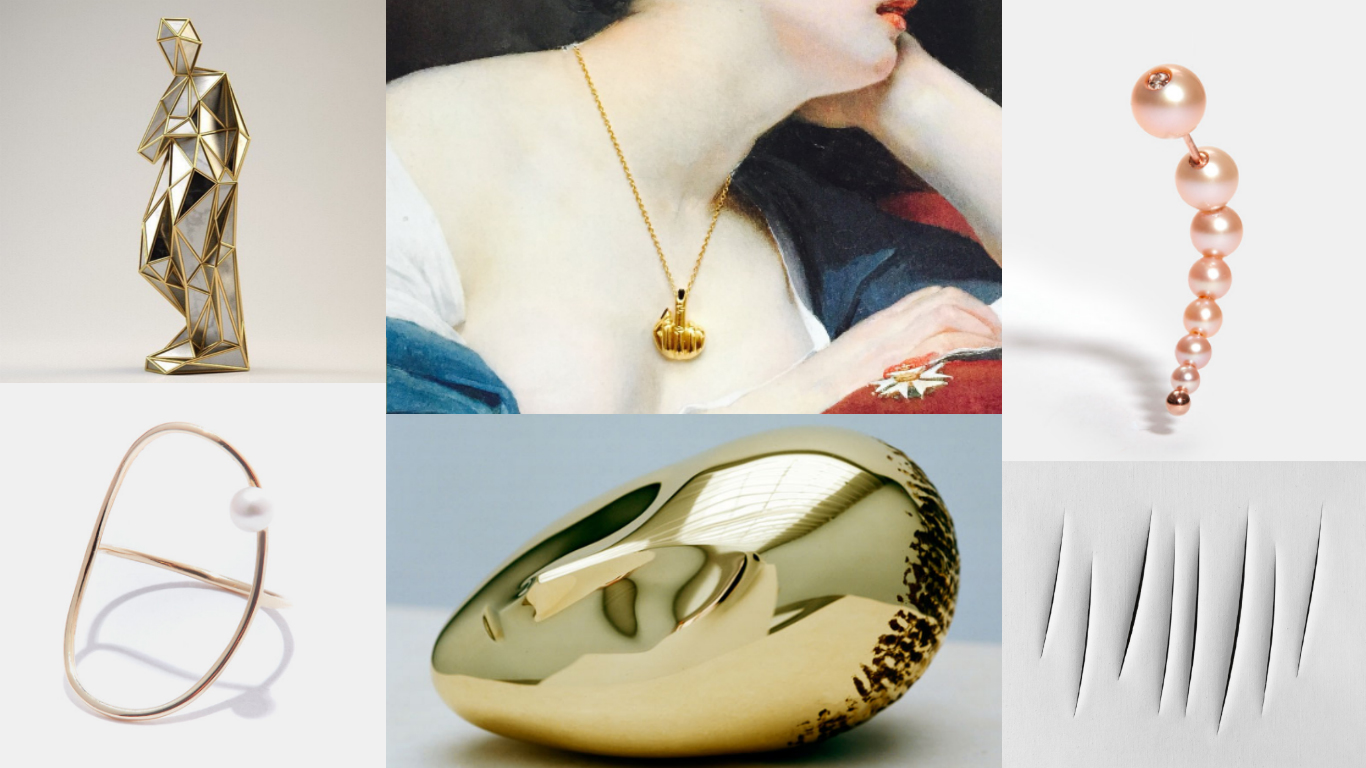 Continually Seeking: Home Style
Finding pieces for your home happens in layers. It's a daily job—it's always, always in the back of my mind. I'm always on the look out. You have to be happy with the idea of taking three hours very early on a Tuesday and heading out to an antiques market (I love Sunbury) and coming home with nothing.
"Finding the perfect thing is a daily job—it's always, always in the back of my mind. I'm always on the look out."
You have to take the chance and go looking. Once I came back with eight amazing pieces for one trip. With all these things, it's just a matter of patience. But eventually if you put the effort in you will find things which truly reflect yourself rather than buying in bulk at IKEA. But it doesn't have to be forever. If I find a better piece than something I already own, I will sell it and replace it until gradually you build the perfect home. Sometimes you have a crush on something but it doesn't last, but sometimes—just sometimes—it's true love. And you'll keep it forever.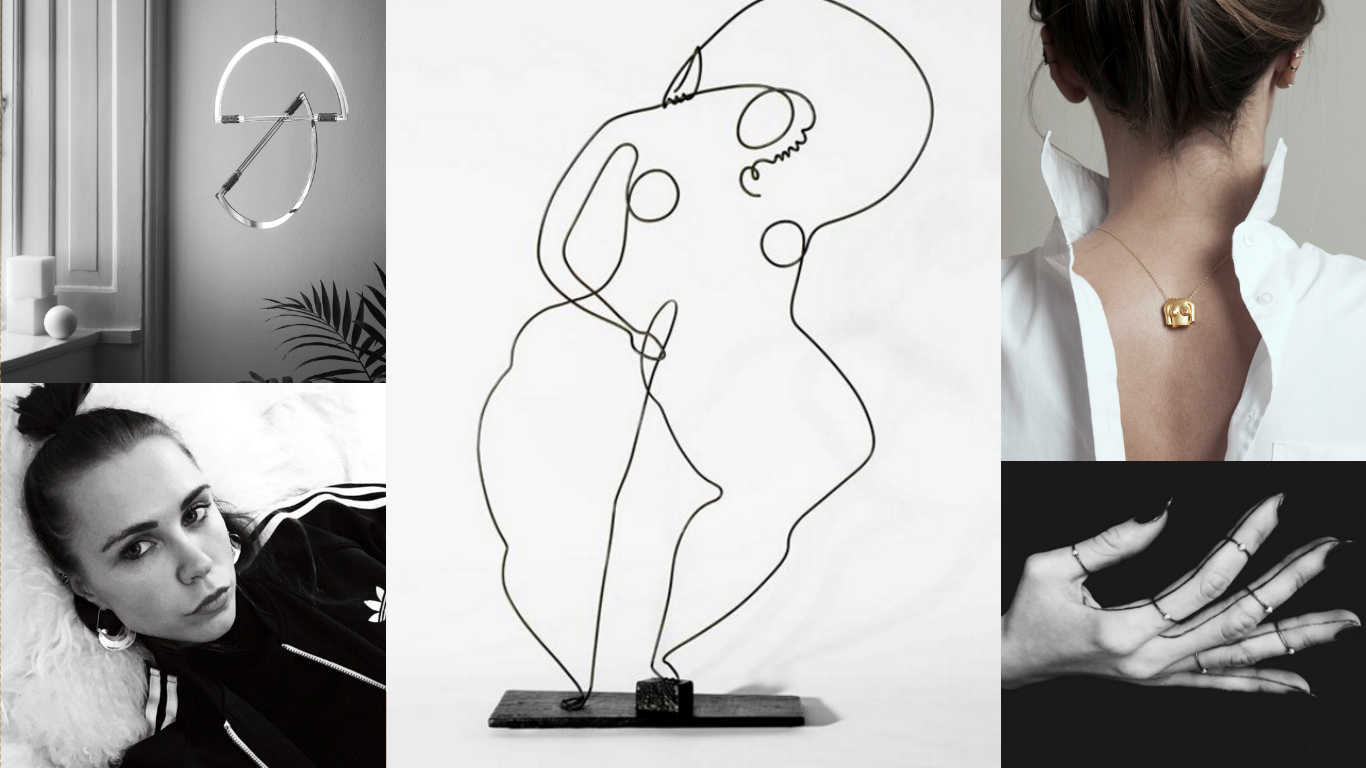 Creating The Look
I don't think my style is particularly Parisian. I mix things up much more than the average French girl—for me it's a reflection of the multiple strands of my personality. In everything I do there are contradictions—I design fine jewelry as well as big statement earrings in gold-plated brass. I like pieces that fit in with the everyday and are chic and elegant, but I also like things to be provocative and a little more crude.
"Sometimes you have a crush on something but it doesn't last, but sometimes—just sometimes—it's true love."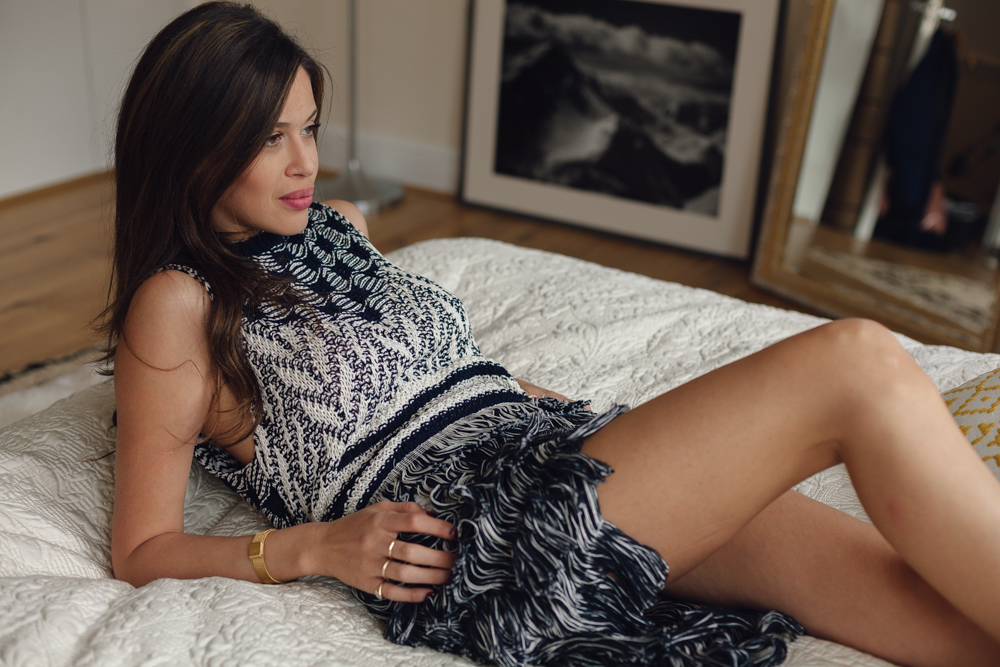 Today I'm wearing a black, minimalist dress by Malene Birger, Adidas sneakers, an Hermes Birkin bag and a vintage denim jacket with a Lichtenstein Pop Art graphic on the back—I found it on Portobello Road. When you find original pieces and put them together in an original way, no-one else can look like you.
When you see something that you really love and it fits you well, you should buy it. I could be strolling on a Sunday morning to get my coffee and pop into a vintage store and find an amazing cocktail dress covered in sequins. When I was younger I would have thought 'why would I buy this on a Sunday morning?' But now, I will take it home, because we just don't have the time to search every day. Don't think twice, save it and you will use it.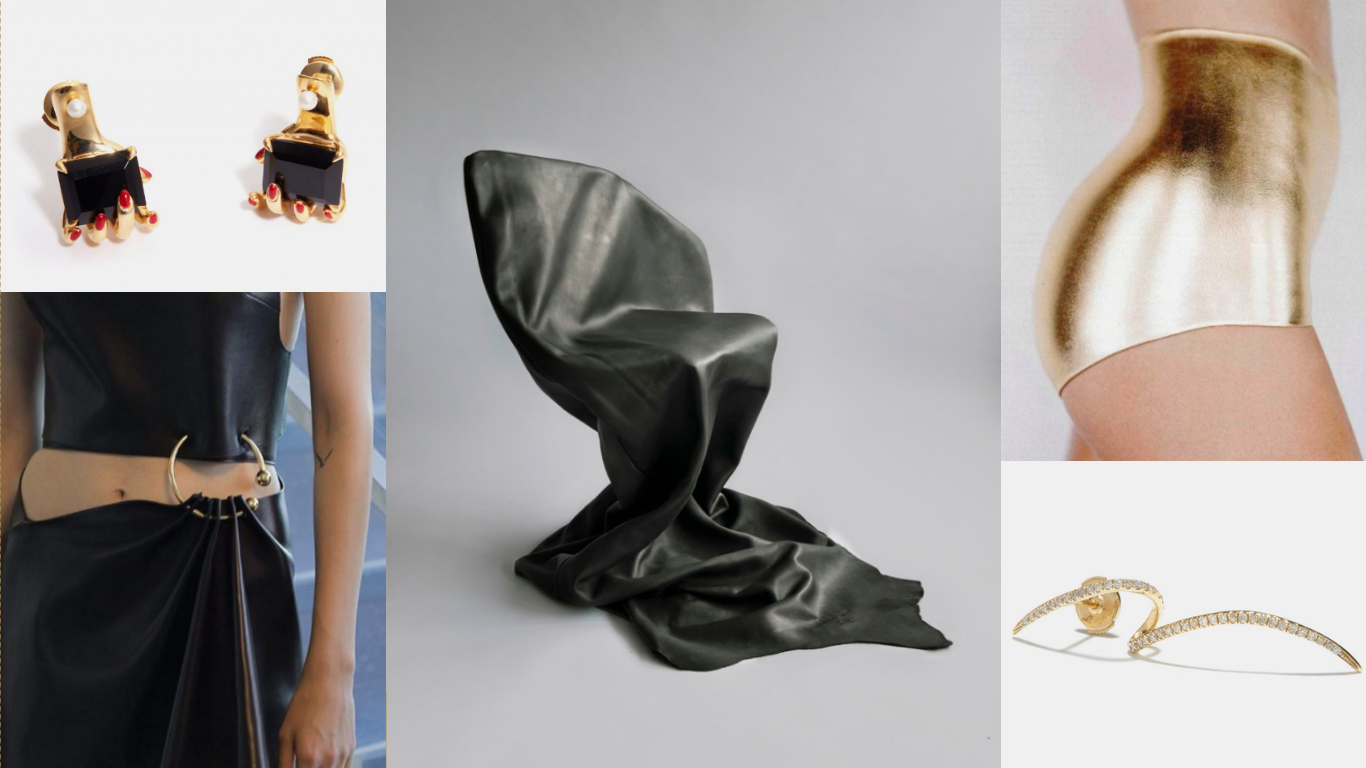 Shop Anissa's Favorites
My favorite brands at the moment are Jacquemus—I love the way he takes French style and just rips it apart and sticks it back together again. I think what Vivetta are doing is very fresh—it's a new way to take surrealist inspiration and reminds me of my body language collection. I also love Ellery and J.W.Anderson, so many brands have been influenced by what they are doing—Monse for example, is another brand out of New York working along similar lines. It's this concept of deconstruction and reconstruction that appeals to me. I'm also a big fan of Jonathan Simkhai—I just bought a new dress for a wedding this summer. His pieces are so useful—definitely worth the investment.